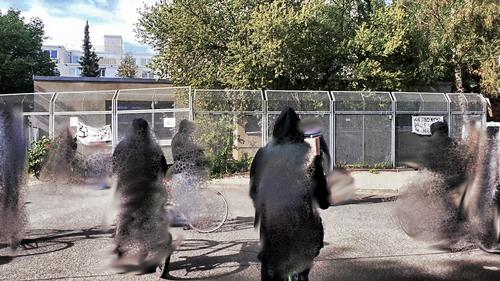 On May 1st, without any authorization, a group of supporters met under the walls of two women's prisons in Berlin (JVA für Frauen Lichtenberg and JVA für Frauen Neukölln) to bring warm greeting to all inmates.
After we visited the second prison, we cycled up Hermannstrasse along a short stretch of the main road. Our chants, banners and shouts slowed the traffic down, breaking the quiet of "normality" for a few minutes.
The action was enveloped by music and noise, it was brief, so as not to allow the 'uniformed servants' to stop the participants. Those who stood under those walls shouted out their solidarity with all the prisoners and their hatred for this institution that isolates, oppresses and deprives others of their freedom.
We hope that actions of this kind will be refined, reproduced and spread, in order to always reiterate our solidarity with every inmate and our absolute dislike for the State and its prisons. With the hope in our hearts to see those walls burn, with only the guards inside.
We don't give a shit about their justice!
Our love of freedom is stronger than any authority!!!